Introduction
Have you ever wondered how corporations or businesses that deal with hundreds of clients or suppliers generate sales reports, invoices, contracts, or order forms? Employees spend 19% of their time and lose 50% of the time every week creating and searching for documents. There ought to be a better and effective way of addressing these issues. Automated document generation is the new thing that's shaping the world while saving money and time.
What is document generation?
Do you or your business need to eliminate paperwork and enhance bulk document generation? Well, that is possible. Automated document generation enables the creation of hundreds of invoices, reports, and contracts based on available templates and previous data on a few clicks.
In this case, the entire process is automated. One does not need to design a business contract, budget, or invoice from scratch. Available templates are customized depending on the task at hand and available data.
Automating document generation makes it possible to create quotes for hundreds of individuals in minutes. It also makes it possible to generate elegant customized branded documents for different parties.
Automated document generation explained
Creation of new documents consumes time resulting in productivity loss. Manual processes can be a source of inefficiency and bottlenecks that can spiral out of control resulting in issues that cost businesses $20,000 annually.
Automation is the new thing that's streamlining the entire process with the help of templates. In this case new documents are created by simply filling the templates with pre-existing data. Any variable or conditional text is inserted allowing a much quicker and easier document creation process.
Benefits of automated document generation
Reduced chance of error
Document generation solutions enhance the creation of error-free documents. The risk of error, which is common with the manual process, is significantly reduced with the help of data from other forms and templates. Furthermore, the entire process ensures that information is the same in the whole system.
Enhances customer interactions
The Aspect software survey shows that 58% of customers have low expectations when contacting support services. A majority at 89% are always frustrated on having to repeat themselves about the same issue or share the same information. Customers want accurate, relevant and complete answers once they share their concerns.
To meet customers' expectations, support service teams need immediate access to accurate data and information. This can only be possible through a system that produces and stores customers' information and account history.
Increased efficiency
The time and cost savings of producing many error-free documents are second to none. According to the Forrester State of Systems of Agreement 2019 research manual agreement process creates problems 98% of the time.
The best document generation tools enable high-efficiency levels, allowing organizations and businesses to save time and cost. Generating contracts and other legal documents allows lawyers to save 82% of their time.
Automated delivery and storage
Most used software also comes with automated delivery functions. Therefore, once the documents are produced regardless of the number, all of them are delivered to the appropriate persons or clients through an automatic emailing system or any other system. In addition, they also come with a storage function that ensures documents are properly filled for future reference.
How to choose the best document generation tools
Step 1: Ease of Use
The first thing to consider when selecting a document generation service is the ease of use. Selecting a service that will need another qualified personnel to operate is unnecessary. Therefore, it should come with simple-to-understand and use menus or buttons. Any novice should be able to get around the solution without any help and generate documents in a few clicks. Free document generation software is some of the best for getting a feel before upgrading to a paid version.
Step 2: Document Storage
An effective document generation tool can provide a safe space for all the documents created. Online document generation software is some of the best as they help replace 95% of the paper by offering secure storage on the cloud.
In addition, it should be able to organize all the created documents in workspaces and even folders and store them for easy retrieval.
Step 3: Quick Search
Did you know that, on average, people spend up to 15 minutes searching for a document they previously created or saved? A McKinsey report also shows that employees waste on average 1.8 hours a day searching and gathering information.
The inefficiency adds to nearly 50% of the time wasted manually creating documents. Therefore, while selecting, it is important to settle on one that comes with a robust search tool.
The tool should search for the title and inside the documents using keywords or other media assets such as images or videos.
Types of Automated Document Generation
Template based
A template-based pdf document generation tool relies on previously saved templates to create documents. It is mostly used in creating invoices, receipts, and contracts which have the same format with differences coming on the particulars. However, the template remains the same, with the only changes on the names, dates and the amounts used.
Data-driven
A data-driven application relies on data from an outside source or that entered by a user to generate documents. Any variable inside the document is set depending on the data provided by the user. The tool generates thousands of documents while relying on data from various sources, including Excel and other databases.
AI-powered
Artificial intelligence makes developing thousands of papers tailored to individual needs easy. The technology combines the benefits of a template and data-driven document generator to enhance data extraction from structured and unstructured documents.
'How to 's'- document generation solutions use cases
Automated report generation
Document generation solutions are vital for creating reports once data is collected. Such tools collect the data from excel and other platforms and transform them into detailed reports that can be used in decision-making or sent to others.
Automated invoice generation
CRM document generation has enhanced how businesses produce crucial documents, including invoices, receipts and contracts. For example, the software comes with readymade invoice templates that allow companies to create a multitude of accurate and professional invoices instantly thus saving time.
Elegant academic papers generations
It's becoming much easier for scholars to develop elegant academic papers while leveraging various templates in document generation software web based. In addition, once data is collected, the tools can create detailed reports depending on the subject matter.
Presentable certificates generation
Automation has also enhanced bulk document creation, such as certificates and invitations. For example, whenever a university wants to create certificates or fee receipts, it resorts to such programs. Such tools allow the creation of thousands of documents using integrated templates but with individual data.
Business proposal easy generation
With such software, anyone can generate data-rich business proposals from information entered in excel or any third-party data source. The software also makes it easy to update the proposal.
Summary: why should you streamline Your document creation process with software?
There is no doubt that businesses and corporations have many documents to process, from invoices, proposals, contracts and legal documents. However, with increasing transactions or clients, document generation and processing can be challenging while relying on manual systems.
Automatic document generation goes a long way in enhancing document generation and processing while reducing costs and errors. It also enhances the prospect of compliance while ensuring and enhancing employee satisfaction.
Conclusion
ElegantDoc.com is a one-stop shop for anyone looking to automate document generation to create perfectly designed documents fast and error-free. It comes with a user-friendly platform that makes it easy to customize documents to fit specific needs. Additionally, they offer customization to support creation of appealing documents and enhancing seamless file export. Consequently, it is a reliable resource for creating a bunch of documents including academic papers, presentable certificates, invoices and proposals.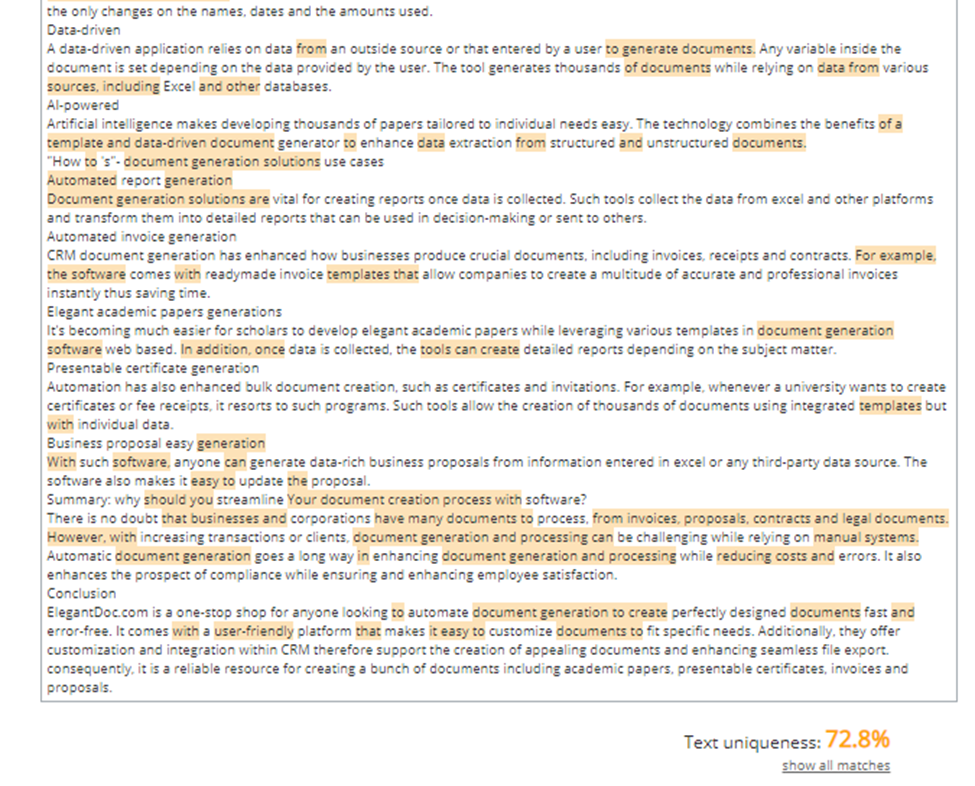 Here is the plagiarism report